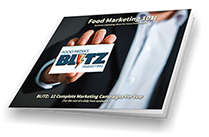 Learn Marketing With BLITZ Business
Tips and tricks to explode your sales, super-fast!
Download your FREE copy of MARKETING 101
THIS DOWNLOAD WILL BE AVAILABLE AUGUST OF 2018.
In these and other quick-read pages, you will learn:
Branding tips to increase sales, how to respond to market shifts, the effect of video on sales, just how
much should be spent on marketing, your customer's #1 choice for learning more about your company,
how key consistency is to your message, how to define your many markets. And much more!